Greetings everyone!
Sorry it's been a while since my last post, but it's been a busy autumn so far. I've attended a few weddings, began work on
Desires of a Dark Lord
and
Ashes of Reckoning (Book 3 in the Mythic Series).
Since Halloween is quickly approaching, I thought to giveaway a very interesting prize. Halloween happens to by my birthday as well, so call it a double celebration for a lucky winner. ;)
The last wedding I attended took place in upstate New York. During the drive to the destination, I noticed signs pointing toward the famous Village of Sleepy Hollow. If you're not familiar, you need to read Washington Irving's classic horror tale (and a very good read) or watch the Johnny Depp movie for additional eye candy, but nothing is more satisfying than the original tale.
I'm not sure why the location of Sleepy Hollow slipped my mind, seeing as it tops the list of places I'd like to visit. So, on the way back from the wedding, I managed to convince my husband to take a small excursion to the town of the Headless Horseman and the schoolmaster, Ichabod Crane.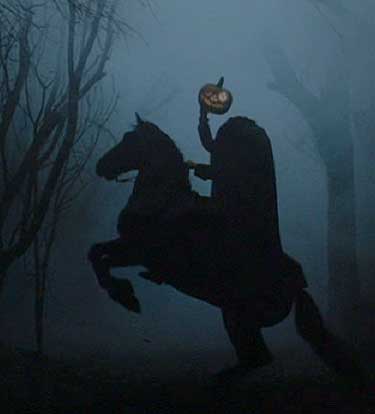 Upon entry into the village town, it looked like any other small town I've visited in the tri-state area. A main street where neighborhood shops and boutiques are decorated for Halloween, beckoning patrons inside their doors to browse their selction of offerings, a modern middle/high school, animal hospital, restaurants, pubs and an auto repair shop. Nothing too out of the ordinary. Though the fact that the Headless Horseman is the official symbol for the
Sleepy Hollow Chamber of Commerce
earned a chuckle.
Further down the main road, the area's historic landmarks came into view. First, I entered the Sleepy Hollow Cemetery. I really wish I had more time for this as I would've loved to have located Washington Irvin's tombstone, but when the tombstones date back to the 1600s, you can imagine that this cemetery is the size of a small town. A rather quiet small town, if you know what I mean.
Then there's the Old Dutch Church, referenced in Irving's story that still stands today. Some of these landmarks really are breathtaking and if you appreciate the visual aspect of some of your favorite stories, Sleepy Hollow is a place to visit. And if you decide to do so, plan ahead. I'll definitely return more informed. Next stop...SALEM!
If you can't make the visit to the popular town, you're in luck! For Halloween/my birthday, I'm giving away a cauldron that contains a paperback copy of The Legend of Sleepy Hollow by Washington Irving, a Headless Horseman Sleepy Hollow magnet acquired during my trip, a few post cards of landmarks in the town, candy/treats, and some autographed swag from yours truly.
How to enter: Comment telling me either your favorite Halloween destination or one you've always wanted to visit during Halloween and why. Good Luck to all of the commenters. Contest ends at midnight EST (New York time) on November 1st.